Your adventure
holiday in South Tyrol
adventure for children and adults
In your adventure holiday in South Tyrol you will find many exciting and diversified learning paths and theme trails in the region Ratschings. Gather valuable experience while walking barefoot on pebbles, practicing in balancing or exploring with your children. The theme trails excite all senses and mind.
The most beautiful theme trails
during your experience holiday in South Tyrol
The best known attractions include the Gilfenklamm. The theme trail overcomes a difference in altitude of 175 meters and has a slight difficulty. Uphill you are around 60 minutes walking, while the descent takes about 30 – 45 minutes. Starting point is in Stange. Families with children will enjoy the Natural History trail Wolfsthurn Castle. The route is relatively straight and therefore has a slight difficulty. After you have started in Mareit, you reach the destination after about 1 hour. With about 1.5 hours walking the them path Burkhardklamm is a little longer. But this route has a slight difficulty too. Here you can overcome a difference in altitude of 300 meters. Overall you are about 2.5 hours on the road. Something more challenging is the Pfeifer-Huisele path. The ascent is 3.5 hours, the descent should be planned with around 2.5 hours. Overall, 990 m difference in altitude shall be overcome.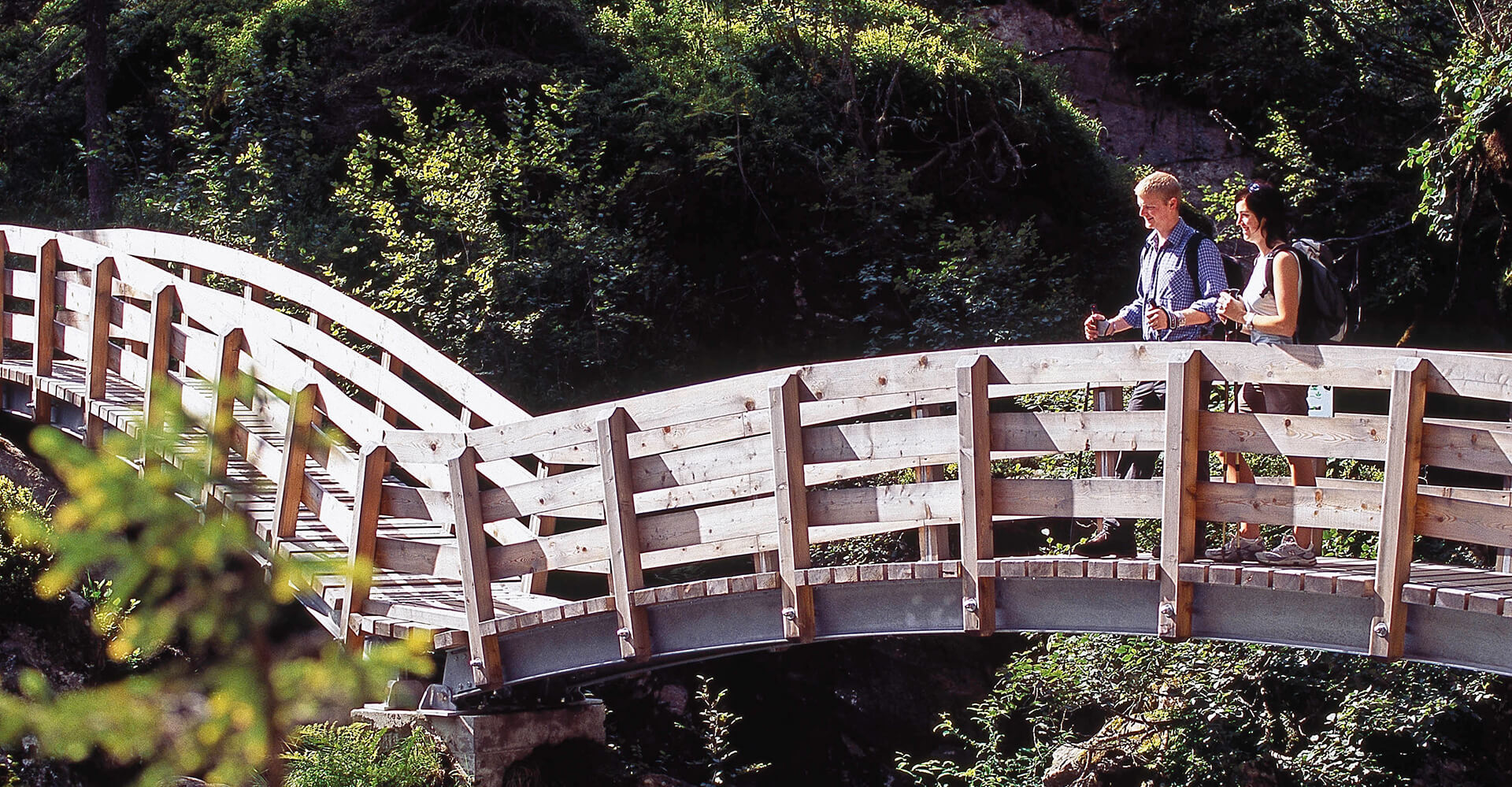 theme trails


for the whole family
Hiking through varied landscapes
Hiking through varied landscapes
The pastures trail "Ratschinger Almenweg" has at a difference in altitude of 280 m and a slight level of difficulty. You start on the road, at the mountain railway Ratschings-Jaufen or in Flading. An entire round trip takes about 4 to 5 hours. A special highlight in your adventure holiday in South Tyrol is the MountainAdventureWorld in Ratschings. You walk around 45 minutes on the road and start at the top station Ratschings. The ascent is relatively flat, so the level of difficulty is quite easy. Moreover this trail is also accessible with a pram. On the other hand, along the barefoot path in Flading you get to know your own body, re-stimulating both body and mind. Engage all senses and start from Innerratschings for an exciting adventure.

[